10 Must Have Apps for Construction and Contractors
10 Must Have Apps for Construction and Contractors

These days, our smartphones are never far from our hands or our pockets! They have become something that most people cannot live without. Yes, they can be a distraction, but smartphones can also be a great benefit on the job. That's because there are now a wealth of apps for construction contractors available that can help with day-to-day tasks that crop up in the construction industry! Having access to these apps right in your pocket can increase your efficiency and also increase accuracy in reporting and other areas.
Check out the list below for a roundup of ten of the top must-have apps for construction and for contractors. This list covers a variety of purposes, from project management to back-end and office tasks like accounting!
Know More Hazard App

The Know More Hazard app is primarily a simplified safety reporting software. It is especially great for small or mid-sized construction companies and was designed so that it would be a more approachable software than many of the other software options out on the market today. Some of the other software packages that are available may be overwhelming or overly complicated– though they may work better for larger firms– so the creators of the Know More Hazard app recognized this need and designed their product accordingly!
It features both a mobile and a desktop app so that you can easily access information from any location. This also makes it easy to do accurate reporting while out in the field, and then access the data later when you are back in the office or otherwise have computer access. There are checkboxes and drop-down menus that make reporting easy, and once the report is complete, it is even time-stamped and sent to managers or other team members.
When it comes to pricing, there is no one set price, as there are for many other construction apps, and this is because the Know More Hazard app can be customized to your company's needs and is then priced accordingly. It does have a subscription-based payment plan, as well as a software setup fee. Know More Hazard also offers a free trial and will offer demos for those who want to learn more about the app before making a final decision.
Some of its pros and cons are as follows:
Makes reporting easy
Customizable software
Subscription-based payment plan
Free trial and free demonstrations
For a free demo of the app go to our
CONTACT
page and email us. For more information and a video, presentation go to our
ABOUT
page.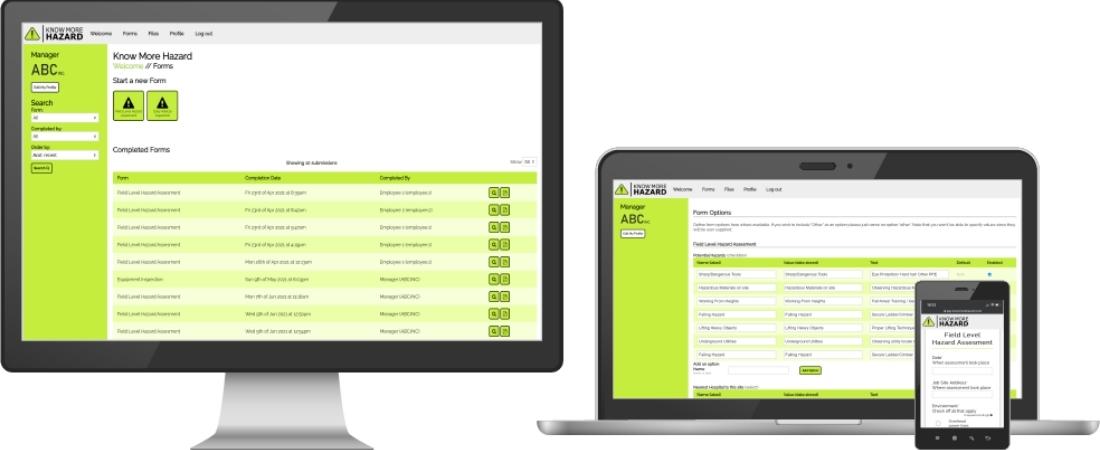 Evolved Metrics CRM App

The Evolved Metrics CRM app is an app that handles customer relationship management. This helps to bring the customer or client throughout the sales funnel from lead to signed client. It also helps to manage and polish relationships with existing clients, to keep them happy. Customer relationships are key to the longevity and success of your business, and CRM software is used in many different industries!
Construction is a very relationship-based industry, as good relationships can lead to the acceptance of your bids on jobs, and more. The Evolved Metrics CRM app was designed to be easy to navigate, eliminating some of the bells and whistles that are unnecessary and make using CRM software overwhelming and frustrating. The creators of this app spent many years in the corporate world before turning their knowledge into Evolved Metrics.
Evolved Metrics also offers a one-hour complimentary workshop to show interested parties what they are all about before you make a final decision or purchase. Whether or not you decide to buy the app, you will leave the workshop with a culture and process improvement report that you can utilize to improve your business. You can purchase the app for a subscription of $25 per month, with a free trial for your first month.
Some of its pros and cons are as follows:
Quick setup
Simple and easy to use
Great customer service
Demos available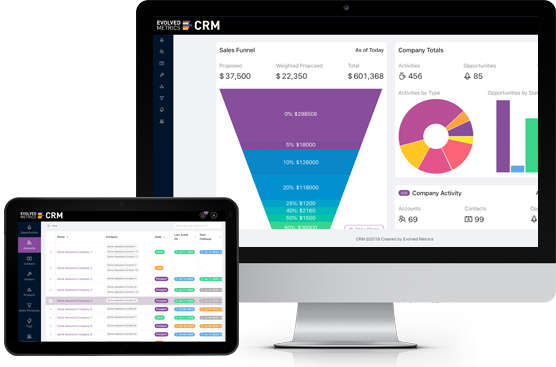 Quickbooks Accounting App

The Quickbooks Accounting app is important for business owners in all different industries. It is an online app that can be accessed via your phone, tablet, or computer so that you can have access to its functions and data no matter where you are– whether in the office or out on a job site! It is an intuitive system that makes many tasks quick and easy, and you have a digital footprint of all invoices sent, unlike with paper invoicing, as copies can get easily lost if you are not organized.
Quickbooks does also connect to your bank account so that any business purchases that you make are recorded and can be filed away properly under the correct category for tax reference later on. It makes it easy to send invoices, track sales, and run reports without having to do this manually! It also keeps all of your finances and accounting organized.
There are a few different tiers of Quickbooks, but the simplest of the tiers start at $12.50 per month.
Some of its pros and cons are as follows:
Easy invoicing and reporting
Can run payroll
Does not allow multiple login accounts
Integrates with your bank account
​
BIM 360 App

The BIM 360 app is a project management system that was designed specifically for the construction industry. Project management software can help you to stay on top of things– especially when your company is working on multiple sites or projects at the same time– and also to communicate effectively with your team members or employees.
The features of the BIM 360 app help construction companies speed up delivery times, as well as manage project budgets, adhere to safety and industry standards, and resolve issues quickly. It also offers features like construction dashboards and construction tracking, which effectively give you a bird's eye view of each job site your company is working on.
When it comes to pricing, the BIM 360 app is available on a subscription model and requires monthly payments. This starts at $35 a month, but volume discounts are also available. The app offers a free trial, too.
Some of its pros and cons are as follows:
Offers construction tracking
Can identify trends
Sends notifications
Can help with quality assurance and quality control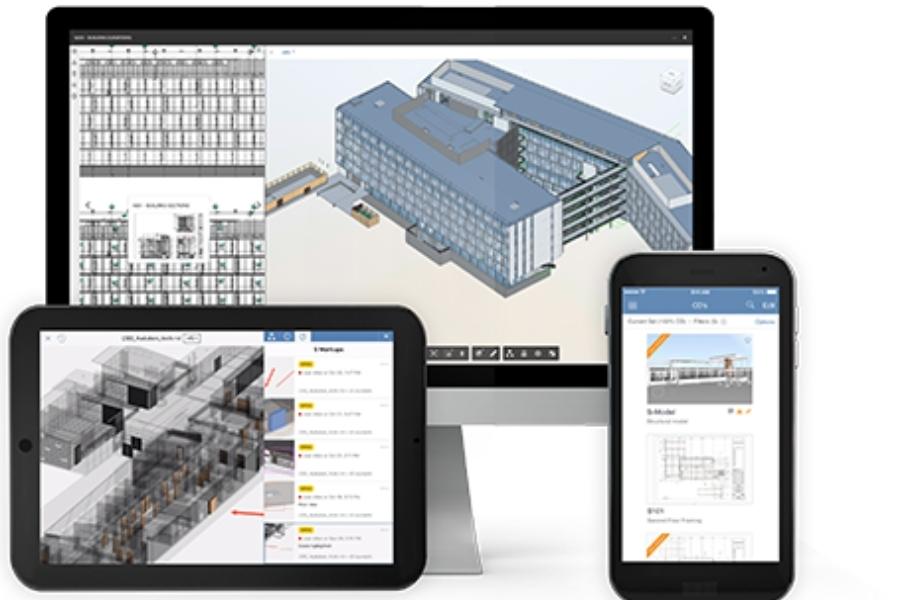 Procore App

The Procore app is a cloud-based software system. It is, essentially, another project management system for contractors and contractors. What is so great about this app is that it is a unified platform and connects people, as well as other applications and devices so that you can get all of your information organized.
This particular app has a business model that offers different products for construction financials, construction project management, and quality and safety control. One of the great things about Procore is that it allows all of this information to be freely shared between teams, whether or not they are in the same location. This keeps your company organized and reduces the possibility of important information falling through the cracks– which can also end up saving you time!
The Procore app has a subscription model, but pricing is custom and based on variables such as your construction value. If you are interested in Procore, you will need to contact their sales team for a quote.
Some of its pros and cons are as follows:
User-centric
Fastest time to value
Core OS tools
Proprietary system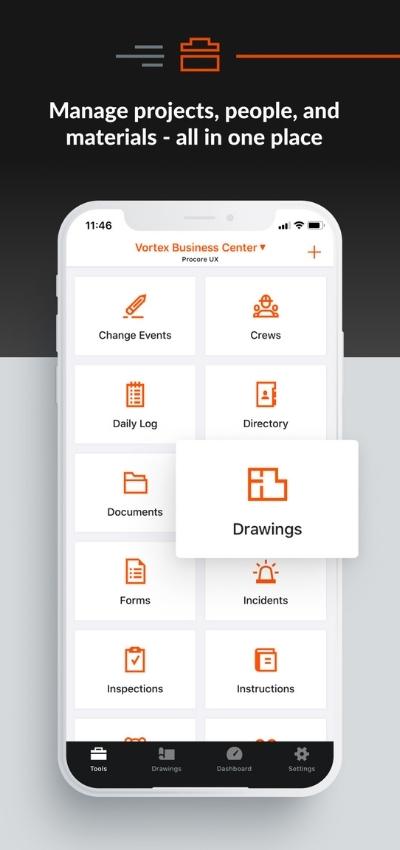 Ezelogs App

The Ezelogs app, like the name suggests, mainly handles performance, safety, and daily logs while on the job. It is available through the app and via a web portal as well, so it can be accessed on your computer as well as on your computer or tablet.
The app has a variety of features, such as project process– which tracks project budgets, delays, and labor hours. The cost performance feature measures factors like subcontractor cost, markups, and gross profit. Other features in the Ezelogs app include daily logs, safety logs, time logs, and performance and project management logs. There are also safety toolbox talks– here, you can access over 100 preloaded safety toolbox talks, or you can upload or create your own topics.
Like most of the apps on this list, the Ezelogs app is available through a subscription model. This subscription model starts at $8 a day, making it one of the cheapest construction apps on the list. They even offer a 90-day free trial so that you can get used to using the system before making your decision, and have more time to decide whether or not you will be making a purchase!
Some of its pros and cons are as follows:
Track daily profit
Time logs and cost codes for certified payroll
PDF extraction
Affordable option
Photo documentation
PlanGrid Build App

The PlanGrid app is a construction productivity app. It has several features, one of the most unique being its annotation tool. PlanGrid allows you to send updated drawings and blueprints to your team, whether or not you are in the field with them. This can save time when things change, and also reduce errors. The annotation tool lets you mark up your plans with photos, sketches, and notes while on the job. You can then share them with your team in real-time!
PlanGrid also allows you to hyperlink documents such as contracts, specs, or RFIs when sending plans to your team. You can even generate new, as-built drawings in the app itself. It makes it easy to create reports and drawings with just the click of a button!
PlanGrid is priced on a monthly subscription model, and there are three different subscription models. The most basic is $39 a month, with the next step up is $59 a month. The most expensive option is $119 per month.
Some of its pros and cons are as follows:
Secure and scalable
Improve job site safety
Daily reminder emails
Delivers real-time project details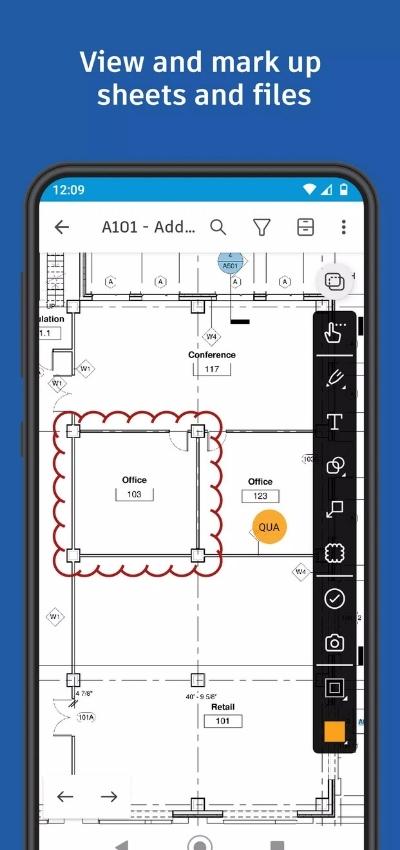 PENTA App

The PENTA app is great for construction companies because its features encompass not only project management, but also areas such as financial management and equipment cost control. Like some of the other great apps on this list, it is an all-in-one app design. It was also designed with an open ORACLE database, which can help to harness data in order to get results.
The information that the PENTA app is able to collect can help to make decisions about equipment– such as accurate cost data, which helps you to decide when it is better to rent. It also gives you the location of each piece of your equipment and its current status and usage, making it easy to track when preventative maintenance needs to be done. All of this is part of its equipment cost control feature. This more unique feature is not one that is found in every construction management app!
The PENTA app is offered through a subscription pricing model, and pricing is provided by the sales team upon request.
Some of its pros and cons are as follows:
Customized job inquiry
Job forecasting
Real-time updates upon data capture or entry
Trend analysis reporting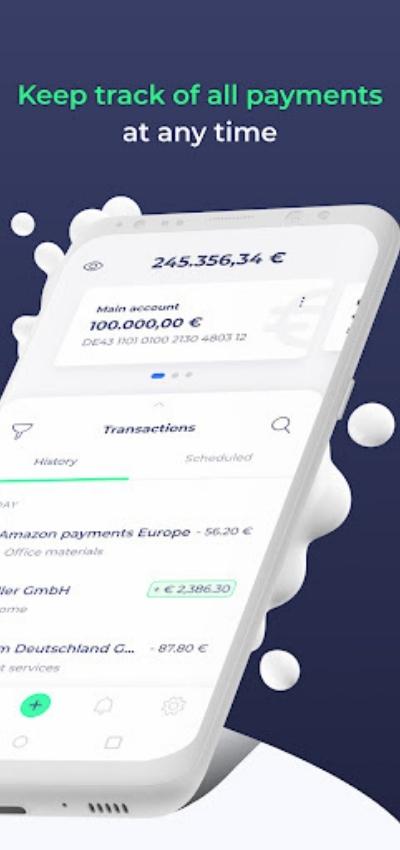 eSUB App

The eSUB app is one that can help you to keep track of your subcontractors on the job in a few different ways. For example, it allows you to assign and customize tasks by choosing the start time and end time of the assignment. You can also note the percentage that is complete for these individual assignments. This can greatly affect efficiency, as well as minimize errors, as all expectations are spelled out clearly and easy to access in the app.
This app combines best project management practices with features like time card management, which allows your team to enter their time from any location, whether it be the job site office or their own home. Your back office team can then login and review or approve these time cards with ease.
eSUB has a subscription model and starts at $20 a month, with higher-priced tiers also available. The app offers a free demo as well.
Some of its pros and cons are as follows:
Timecard management
Improves scalability for company growth
Resource management
Fieldwork mobile app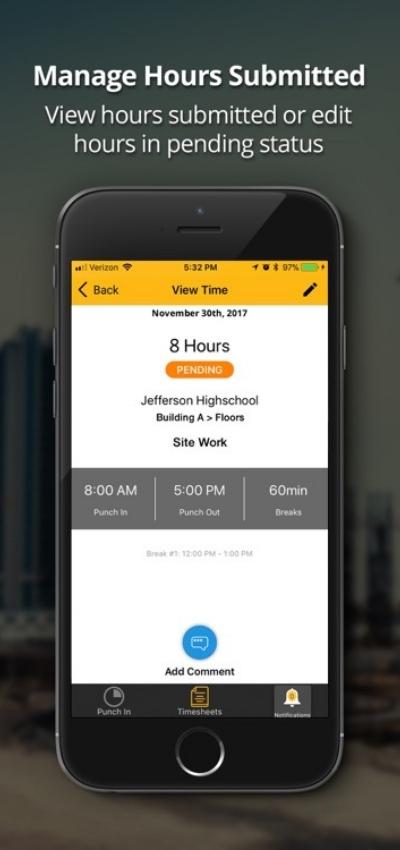 ProContractor App

The ProContractor app is one of the ones on this list that is specifically designed for contractors, rather than construction companies. It is the best fit for small to midsize contractors. ProContractor helps contractors by streamlining the financial operations of estimating and accounting, as well as project management.
ProContractor makes it possible for you to have an overview of and manage the project cycle, all the way from that first bid to project completion. Some of its features include profitable project management tools, accounting features, and easy estimating– which can help you to gain leverage during the bidding process. Cost tracking is another feature of the app that can be useful to contractors, as this affects profit margins and the numbers that you will be bidding on projects with in the future. It informs you better so that you can adjust your pricing if need be.
When it comes to pricing, ProContractor is based on a subscription model. The app ranges in pricing based upon the tier that you choose. It also offers custom demos.
Some of its pros and cons are as follows:
Accurate accounting
Allows for easy estimating
Time-saving
Progress tracking


Frequently Asked Questions
Which app is best for building construction?

There are many different apps on the market, and which one gets the title of "the best" is going to largely depend on what you plan to use them for. For instance, the Know More Hazard app is great for incident reporting and safety pre-checks, especially because it can be customized to your individual needs as a business. Some other great apps for building construction include the OSHA Heat Safety tool app and Plan Grid, for sharing drawings and blueprints.
What software is used in building construction?

Lots of different kinds of software can be used in the building and construction industry, as there is software that handles a variety of tasks. One such software is the Quickbooks accounting software, which can be accessed via computer or via an app on your phone. There is also project management software for building construction that helps keep track of all of your moving parts. Some of the project management software options are Procore and BIM 360. CRM software such as Evolved Metrics CRM can also be crucial to those in the building construction field.
Which software is used for modern construction?

Procore is one of the great all-in-one solutions for modern construction companies. This particular software features cloud-based project management systems and helps you to take control of outcomes and inimoze risks. Of course, there are many software options out there, so there is not necessarily only one software that is being used in modern construction– Procore is just one of the best options! There are plenty of other software on the market that offer assistance with everything from incident reporting to customer relationship management.